30/03/2018 – Work in progress at Archiproducts Milano for a new 'Design Experience'!
For the third time at the Milan Design Week, the design hotspot located at via Tortona 31, has made space for totally new collections of 70 international brands exclusively selected for the 2018 edition.
For the last two years, over 30.000 designers have visited the smart working, living and outdoor spaces of Archiproducts Milano, and starting from April 16th, they will finally discover the total new look of the co-net-working space in Zona Tortona.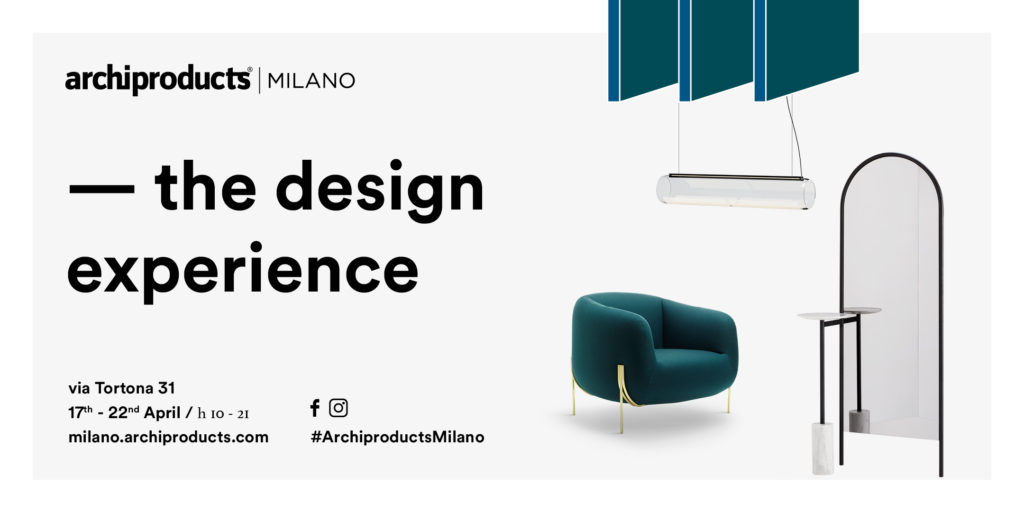 This year's setup has been taking shape thanks to both new as long-lasting collaborations where many different designers have been adding their personal touch. Elisa Ossino Studio, Studio Milo, Christophe De La Fontaine and Aylin Langreuter, Veronica Leali and Matt Lorrain have contributed to the space setup, each focusing on a different area, but all in full synergy with the Art Direction of Archiproducts Milano.
Within a unique play of colors, patterns and materials, the intimate spaces of this Tortona Hub will host numerous brands, architects, journalists and qualified visitors in a brand-new look. One of the new key elements of this year's edition will be color, thanks to the collaboration with the German brand Caparol Icons and the young Danish brand File Under Pop, founded by Josephine Akvama Hoffmeyer.
One single location for an ambitious project with multiple identities: urban installation, with a new façade pattern designed by Elisa Ossino Studio; exhibition itinerary, throughout the 14 rooms of the enchanting early 20th century apartment, with open terraces, decorated ceilings and ancient oak and herringbone-patterned floors; and digital interactions, revealing every detail of the several collections that bring new color to the 2018 look of Archiproducts Milano.
This shared partnership continues to grow hence the 2018 setup has united over 70 brands from all around the world!
Some brands have been part since the very first beginning of Archiproducts Milano and have already reconfirmed this year's collaboration: Desalto, Saba, Velux, Bticino, Flos, Sp01, Roofingreen, Kriskadecor and Vibia. This edition, Gruppo Florim, Living Divani, Alki, Thonet, Casamania & Horm, Daikin, Dante Goods and Bads, ONE Mario Sirtori, Falmec, Paola Zani, Texturae, Volker Haug Studio, Mogs, Scirocco H, Tarkett, Monolithe Edition, Ooumm, Astro Lighting, AnZa., Diemmebi, Ekinex, Domal, Framery, Henri Tujague, Hobby Flower, Knauf Amf, Les Jardins, Luctra, Giovanardi, Kiasmo, Officina Naturalis, Braid, Esemplareunico, Bottega Intreccio, +d and Soil will join the project.
Special guest of the 2018 edition will be the installation IN TOTO – Montreal in Milan. Curated by Azamit, style icon and visual storyteller for Montreal, the project pays homage to the contemporary design of the Canadian city, 'beautifully tormented and tinged with post-industrial melancholia'. A selection of seven designers, whose objects resonate the soul of the city: Atelier Zébulon Perron, Claste, D'Armes, Foraine by Atelier Barda, Lambert et Fils, Maison Milan and Pascale Girardin.
Archiproducts + Volkswagen Design Tour
For the first time this year, passionates and professionals will have the chance to go on a real "Design Tour". Archiproducts will take its guests on a ride throughout the most interesting Fuorisalone locations: on board of the brand new Volkswagen T-Roc, visitors will be able to reach the finest venues highlighted in the Archiproducts Design Selection. Departure from Archiproducts Milano, via Tortona 31, destination Porta Venezia – Palazzo Bovara for this year's Elle Decor event, stopping by Brera, Isola and Sant'Ambrogio. In partnership with Volkswagen, main sponsor of the Archiproducts Milano 2018 event.
EVENT INFORMATION
"The Design Experience" 
Archiproducts Milano
Via Tortona 31 – Underground stop: Porta Genova
April 17th-22nd / h10-21
EVENBRITE LINK: https://www.eventbrite.it/e/biglietti-the-design-experience-44672603961
Press preview 
April 16th / h15-19
EVENBRITE LINK: https://www.eventbrite.it/e/biglietti-archiproducts-milano-press-preview-44672374274
MAIN SPONSOR
Volkswagen
PARTNERS
Alki, Astro Lighting, Bottega Intreccio, Braid, Bticino, Casamania, Cedit, Daikin, Dante – Goods and Bads, Desalto, Diemmebi, Domal, Ekinex, Esemplareunico, Falmec, Florim, Florim Stone, Flos, Framery, Giovanardi, Henri Tujague, Hobby Flower, Horm, Kiasmo, Knauf Amf, Les Jardins, Living Divani, Luctra, Mario Sirtori, Mogs, Monolithe édition, Officina Naturalis, Ooumm, Paola Zani, Roofingreen, Saba, Scirocco H, Soil, Sp01, Tarkett, Texturae, Thonet, Vibia, Volker Haug Studio, + d.
IN TOTO / Montreal in Milan: Atelier Zébulon Perron, Claste, D'Armes, Foraine by Atelier Barda, Lambert et Fils, Maison Milan, Pascale Girardin
TECHNICAL SPONSORS
Aeg, AnZa., British Fires, Cantele, Caparol Icons, Ever Life Design, File Under Pop, Ideal Work, Knauf, Kriskadecor, Kristina Dam Studio, Linvisibile, Martin Design, Oikos, Sayduck, Sûrface, Tivoli Audio, Velux, Vifa, 101 Caffè
MEDIA PARTNERS
Cereal, darc magazine, Disegno, Domus, Elle Decor, Kinfolk, Openhouse, Surface, Woth
Press contacts:
press@archiproducts.com
Web
milano.archiproducts.com
www.archiproducts.com
www.archipassport.com