Perceptive effects, with both two-dimensional and three-dimensional visions, designed by Elisa Ossino Studio
 A composition of black and white abstract panels designs the new façade of the building of Archiproducts Milano. The material is the same, but its design has a new author. Hundreds of very light alumium chains by Kriskadecor, which have covered the building located at via Tortona No. 31 in the last two years, unfasten once again to be reassembled in a new pattern designed this year by the Elisa Ossino Studio.
The façade design visually transmits the idea of 'filing'. A concept that, with different shapes, can be found in three other spaces of the building designed by the Elisa Ossino team: the stairs bringing visitors to the upper floor, the long corridor and the big hall on the first floor. A path, whose concepts of 'filing' and 'serial nature' are translated into a combination of geometries and colours, constantly reminding of perceptive plays between a two-dimensional and a three-dimensional vision.
"The extraordinary archive room dedicated to architects, which is Archiproducts's main property – Elisa Ossino explains – has inspired the general concept of the project. It has been visually translated into a series of abstract panels on the façade, representing both the intangible archive of data and information, and the material records, necessary elements for construction".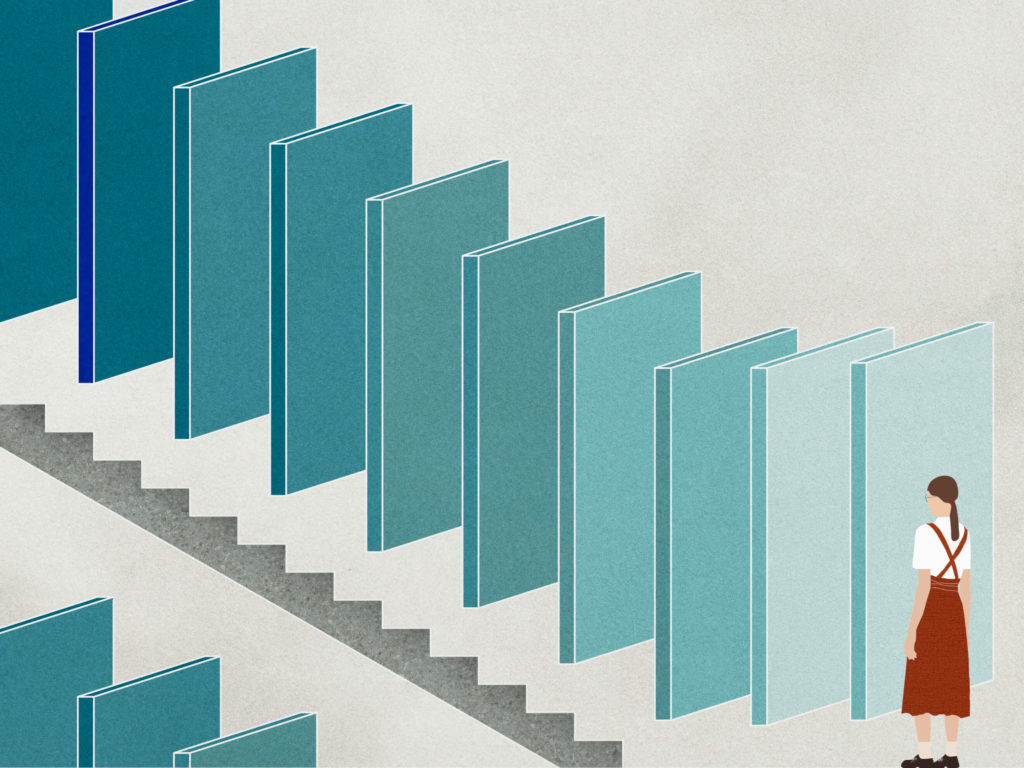 The same panels can be also found inside, in a visual path that from the façade accompanies visitors through the stairs, bringing them to the upper floor. While outside blue is the only hint of colour on a black and white shot, inside the panels, drawn onto the walls, are moduled through a chromatic scale going from light green to the slightly traced blue on the façade, in a path that will gradually drive visitors to totally dive in colour.
On the upper floor, the first space revealing a pronounced chromatic sign is the corridor that, from a mere passageway, turns into a space for a possible rest. One of its two walls, completely covered with sound-absorbing wood-wool coloured plates, is spaced out by three big circles with comfortable padded seats that offer unexpected alcoves.
Another area of the building taking shape from Elisa Ossino's pencil is the big hall with the fireplace, hosting a long table under the high windows and a big sofa in the middle of the room, with a series of small tables allowing to work in an informal way.
Bright and vibrating chromatisms identify this space, structured on two strong parallel lines. Important works onto the walls, with wallpapers that visually widen the space, create a trompe d'oeil effect, with a perceptive effect involving both two-dimensional and a three-dimensional visions, that inspired the whole project.